The Oshkosh Derecho - June 11, 2001
In honor of Mother Nature, I have provided many informational links to what went down this day in Oshkosh's history. After such, is my deteriorating memory and other memories from friends who were around Oshkosh that day.
Severe Thunderstorms in East-Central Wisconsin
During the late evening of June 11, 2001, a large thunderstorm complex (which included a bow echo and subsequent "bookend vortex") moved across central and east-central Wisconsin. Winds exceeded 70 mph across the area, resulting in thousands of downed trees and damage to homes and businesses
More
...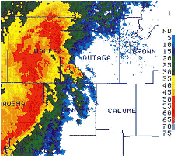 Storm Surge On Lake Butte Des Morts
The storm passed over several shallow lakes including Lake Butte des Morts near Oshkosh, WI creating a storm surge.
More
...
Packerland Weather News
The comma head of the derecho is sometimes associated with hurricane-like conditions.
More
... (Page 4)
City Of Oshkosh Emergency Government Operations
The Damage Assessment Teams also finished their initial assessment on Tuesday, June 12th, estimating $8 million dollars in structural damage throughout the city
More
... (Page 4)
----
My story
My wife and I were in between apartments at the time. The apartment we were moving out of was on Kentucky St, and the apartment we were moving into was on New York St. A few blocks apart. While she was working at the Chalice that evening, our roommate Todd and I got to become one with the storm. Todd and I were at the new apartment on New York St when the storm approached Oshkosh, and from the vantage point this apartment gave us we decided to head over to the Kentucky St apartment for a better and rain free experience. The porch at the Kentucky St apartment faced East and the storm was approaching from the Northwest. Todd drove and parked in front of the house on the street. As the storm got closer the winds and rain were really packing a punch. We wondered if what we heard from the winds was a tornado coming towards us. At that point we both agreed that Todd should move his car from the road into the garage. No more then two minutes after Todd moved his car, the top of a very tall evergreen tree snapped off and landed exactly where Todd's car was parked. It was a hefty chunk of the tree as it was at least 8' long. That was the beginning of the major winds that would cripple Oshkosh soon after. The winds gained strength and it was now impossible to peak around the corner as the rain was horizontal and felt like tiny needles penetrating the skin. These winds lasted for what seemed like forever. During the duration of the winds you could hear/see trees falling and power poll transformers blowing. It was a spectacular site. Once the storm passed we decided to head back to the new apartment and assess damage, however our route there was completely blocked by fallen trees, as was pretty much every street in Oshkosh. We decided to walk. The scene was chaotic with people driving on lawns over fallen power lines. The damage was extensive. Oshkosh suffered many natural and man-made losses.
Alicia Herman
It was a Monday evening... another ordinary summer night at the Chalice. We had the usual crowd for the beginning of the week. As the night went on, the wind picked up and the weather took a turn for the worse. We decided to turn on the radio to see what the "experts" had to say... They had determined tornado-like conditions were on their way. A neighbor came to tell us that there was a BIG storm headed our way. We looked out the window, only to see the traffic light whipping uncontrollably in the wind. It was horizontal. The glasses began to hum and howl... there are no windows to open at the Chalice. The pressure was beginning to build and the glasses had the whistle to prove it. I began to panic. My co-worker told me to relax and stay calm. I had customers to tend to and I wasn't about to jeopardize their safety. I told everyone they had to remain here until the storm passed. I made sure they had their fill of food and drinks as the worst of the storm approached. The wind picked up, trees were bending in ways that I didn't think were possible. It all happened very quickly and before I knew it, there was an eerie calm outside. The neighbor came to let us know that there was a power line down in our parking lot. I welcomed the customers to stay but everyone decided to leave. We did our nightly duties and closed up shop. I quickly got into my car to hurry home to my sweetheart, only to find a downed power line, preventing me from getting home. I parked in the local church parking lot and began to walk home. A neighbor of mine came running out with a flashlight, screaming, "Be careful! There was a line down three feet in front of me. I almost stepped on it... who knows what could have happened. I finally reached the homestead, only to find every light on in the house and candles blazing furiously. I searched and searched for my sweetie, and could not find him anywhere! I assumed the worst... that he had fallen off the roof! I panicked! I cried, I screamed, I blew out candles... I waited and waited... and finally my sweetheart returned. He was at our old house, on the porch, watching lightning strike a tree! The next day was INSANE! 95% of Oshkosh were without power. Except us. We didn't have cable... but the city was a mess. Tree limbs down everywhere! Full trees out, even the roots! People out helping one another clean up what Mother Nature had left us. I worked at the Chalice that day, serving hundreds of people that were without power. It was a long, yet exciting day!
Todd DeMerit
(roommate from above story)
Awesome! That was an amazing night. Well, I think we saw some of those pine trees almost bending over and touching the ground, but not breaking....a few garbage cans flew through the yard and somehow the more we tried to drive the 3 blocks to your new place, the farther away we got due to blocked roads. Not sure if you want to mention that you left candles burning at the other apartment and your wife got really mad at you. haha
Ryan Ackerman
I was working at the late Pioneer Inn when it hit and we lost power pretty quick. I got a call on the walkie from the maintenance guy saying that he needed some help by the loading dock. I met him down there and he said that we needed to secure the dumpsters. I was pretty confused because these are your typical, huge, green industrial sized dumpsters you see at restaurants and on construction sites. When I opened the door, all 3 of the dumpsters were basically doing a ballet in our loading area. They were being blown all over the place and were completely full (luckily the lids were closed).
Marie Martin
I was at Peabodys for MarkMartin's birthday. The lights went out, but they served drinks by candlelight
.
Aaron McAninch
We almost got trapped in our basement. If we would've went down into the cellar, a gigantic tree limb/stump fell on the access doors from the outside

---
If you're made it this far and you have a memory of that day, please share your story by posting a comment! Happy birthday Mark Martin!!